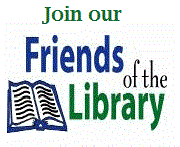 Dedicated to supporting the library, meetings are generally held on the first Tuesday of every month in the downstairs meeting room of the library at 4:00 pm.
The Friends of the Library sponsor programs, provide financing for the things beyond the scope of the Library budget, and act as liaisons between the Library and the Community.
Friends sponsor two used book sales throughout the year. One is in the Fall during Treasure Mountain Festival and the other is in the Spring during Trout Fest.
Membership forms available at the library.
This program that has a new theme each year and is open to ages 2 1/2 to 6th Grade.
We have prizes and other interesting events or activities during the summer to encourage children to visit the library and keep reading.
So come visit us in June every year to get signed up for all of the fun, events and prizes.
Check back here or contact library for more information.